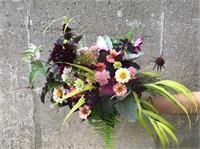 Blooms at the Barre
July 17, 2022 11am
Who doesn't love a beautiful arrangement made up of gorgeous seasonal flowers? We are so excited to be teaming up with Little Blooms for our second, Blooms at Barre Life! We invite you to come together into our intimate studio space after hours to get creative and make a beautiful flower arrangement to take home. Danielle, from Little Blooms specializes in all things floral including vase arrangements, hand tied bouquets, flower crowns, bridal bouquets and much more!
To learn more about Little Blooms. Check out their website and follow them on Facebook and Instagram.
www.littlebloomsfloral.com
This event will take place on Sunday, July 17th at 11am. The cost of this event is $75 per person. It includes a lesson in how to make your arrangement, all of your flowers and vase to create your masterpiece. Tools will be provided.
*Regular Class Packages/Memberships cannot be applied, workshops must be purchased separately. Workshops are non-refundable, a credit may be given if cancelled 72 hours in advance. After 72 hours, no refunds. Normal studio policies apply.